Woodland Wall Series: Fawn
£

25.00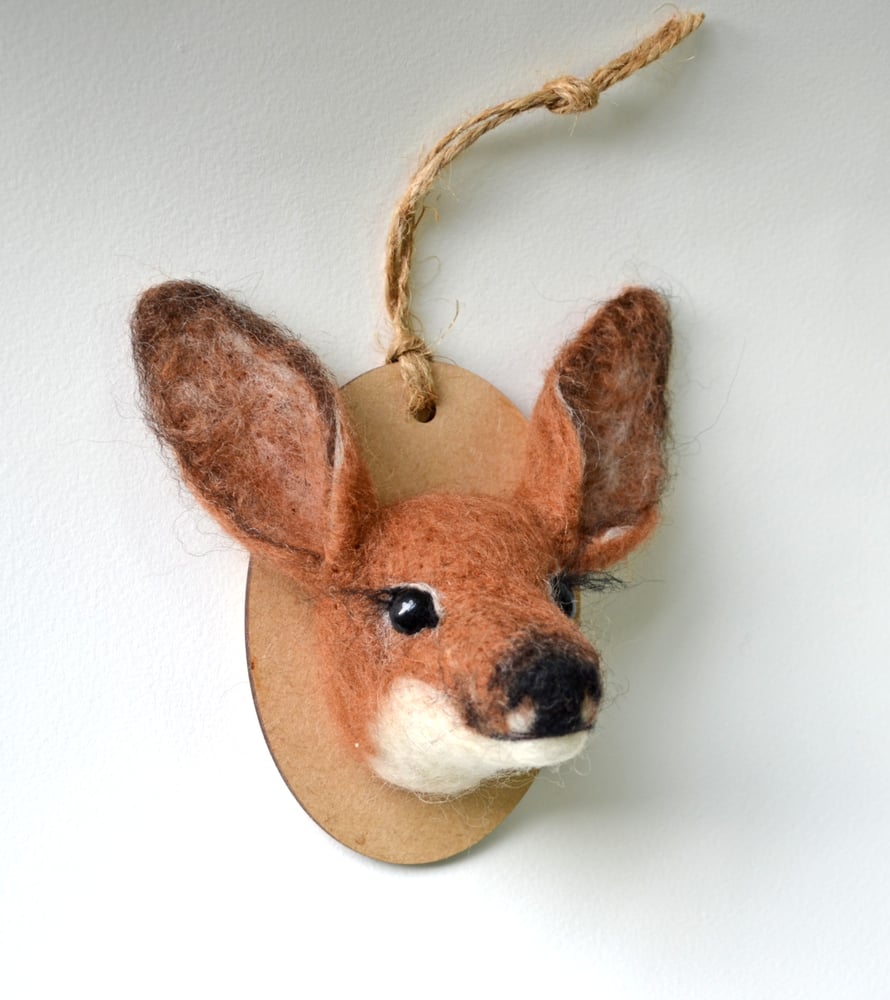 ORDERS FOR FAWN CLOSE ON: Friday 28th February
HE WILL BE IN THE POST ON: Friday 8th March
*You can pre-order Fawn but he won't be posted until March 8th. If you are itching to start felting sooner, why not order one of my other project boxes?*
Welcome to the Monthly Menagerie Felting Club subscription box. This is a flexible subscription so you can order one individual project box or subscribe to three projects. Treat yourself or someone else.
One month subscription = £25
Three Month subscription = £69 (equivalent to £23 per month)
Six month subscription = £126 (equivalent to £21 per month)
This listing is for a single box featuring Mr Fawn. He is the 6th and final project in The Woodland Wall series of felted wall hangings. The project is suitable for beginners as well as those with some felting experience.
Your box will contain all the tools and materials you need to make your felted fawn wall hanging including:
Felting pad
3 felting needles
wool
eyes
wooden plaque & string
The size of your finished project will depend on the maker but the plaque is 10 x 7cm so big enough to fit even the chunkiest of felted fellas.
There will also be treats and surprises tucked into your subscription box.
You will need to provide some glue for the eyes (pva is fine), and an adhesive to fix your sculpture to the wooden plaque (pva, super glue or a glue gun) and a pair of scissors.
When your box is in the post, you will be sent login details to the top secret members area of Monthly Menagerie on my website www.bentonsmenagerie.co.uk. There you'll find detailed video tutorials. The box will also contain reference images and templates. Please add hello@bentonsmenagerie.co.uk to your contacts list so that your email doesn't disappear into the black hole of your spam folder.
IF THIS IS A GIFT
Please let us know in the NOTES & INSTRUCTIONS section of the checkout cart and we can pop a wee note in to say who sent it. Make sure you add the correct delivery address too when you place your order. Remember to uncheck 'BILLING & SHIPPING ADDRESS IS THE SAME'.
Postage to the UK is included in the subscription price.
There is an additional postage charge for overseas subscribers as follows.
For a one month single subscription:
£3.50
PLEASE USE THE EVERYWHERE ELSE OPTION FOR THIS
Delivery times will depend on the postal system of the country your parcel is being delivered to.
THIS SUBSCRIPTION BOX IS DESIGNED FOR ADULTS AND IS NOT SUITABLE FOR YOUNG CHILDREN BECAUSE THOSE NEEDLES ARE SUPER SHARP
Please do note the copyright restrictions.
As a subscriber to the Monthly Menagerie Felting Club you can make as many copies of this design that you wish for personal use. So you can make them for yourself and for friends and family - and what a fantastic gift they would make. You are not entitled to make any for commercial use.