Wet felted pebble pin cushion project
£

15.00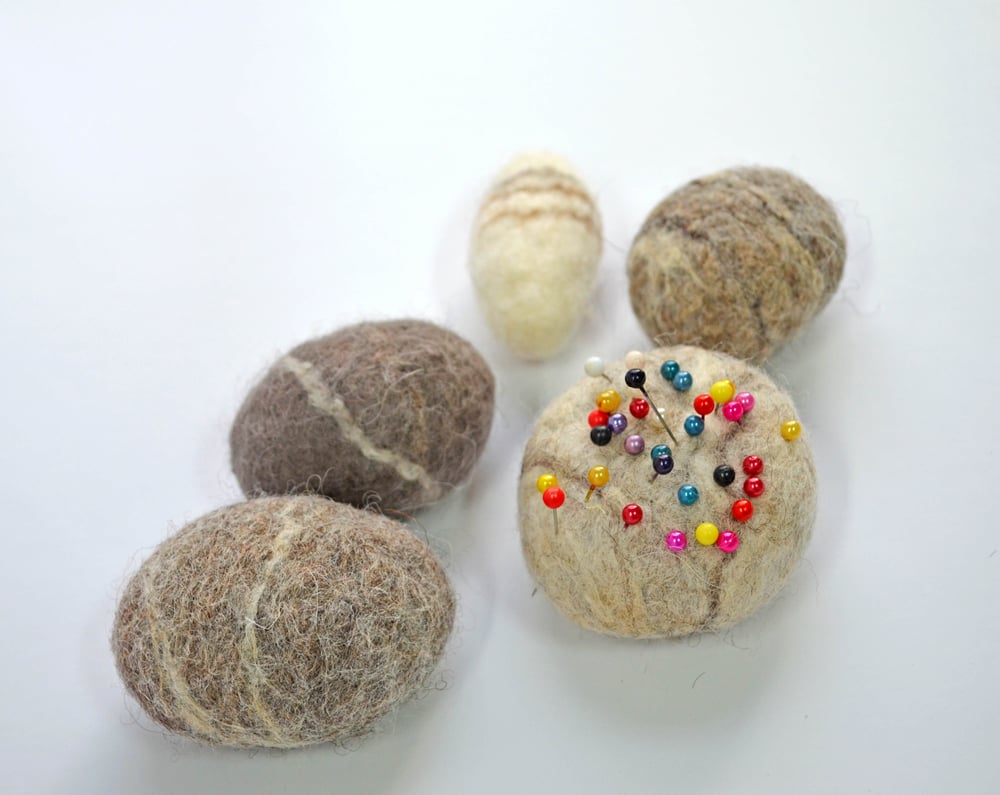 ORDERS FOR THIS PROJECT BOX CLOSE ON:
UK Tuesday 18th December
Overseas Monday 10th December
This is such a fun project as you get to try your hand at both wet felting and needle felting.
It is suitable for older children and adults. It is also suitable for beginners.
The design of these felted pebbles is based on the Pebble Ridge at Westward Ho! in North Devon, which happens to be my nearest beach, just 10 minutes from my felting studio.
This project box will contain the following:
wool
bubble wrap
felting sponge
2 felting needles
You should be able to make 3 - 4 pebbles from the supplies in this box.
You can also order a box without the sponge and felting needles if you already have plenty at home. This will be £12 including P&P. See the options below.
All you need to supply is a small bowl such as a washing up bowl and dab of washing up liquid to help with the wet felting process.
You'll also need towels. It can get wet!
All the instructions for this project will be through highly detailed video tutorials that you can watch as many times as you need. You can also play, pause and rewind.
Login details will be sent via email so do make sure that you add hello@bentonsmenagerie.co.uk to your contacts list so that your email doesn't disappear into your spam folder.
IF THIS IS A GIFT
Please let us know in the NOTES & INSTRUCTIONS section of the checkout cart and we can pop a wee note in to say who sent it. Make sure you add the correct delivery address too when you place your order. Remember to uncheck 'BILLING & SHIPPING ADDRESS IS THE SAME'.
Postage charge to the UK is included in the cost of your subscription.
There is an additional postage charge for overseas subscribers as follows
£3.50
PLEASE USE THE EVERYWHERE ELSE OPTION FOR THIS
Delivery times will depend on the postal system of the country your parcel is being delivered to.
THIS PROJECT BOX IS DESIGNED FOR ADULTS AND OLDER CHILDREN. IT IS NOT SUITABLE FOR YOUNG CHILDREN BECAUSE THOSE NEEDLES ARE SUPER SHARP